Fast Food Resturant Fire
3/2/2020 (Permalink)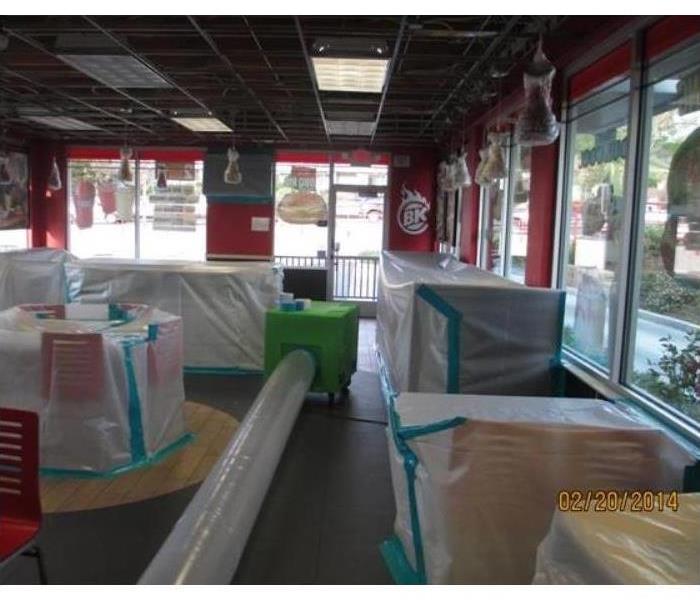 It's not just the flames… it's the smoke, the fumes and the soot that cause damage and injury when a building catches fire.
An automobile was stopped at a drive-through window at a national burger restaurant in Hayward California. The engine compartment of the car burst into flames. The driver was able to get out without injury. The drive-through window clerk escaped too. The fire totaled the auto and burnt a huge hole in the building's roof. However, the most damage was caused by the smoke and soot that billowed into the kitchen and spread throughout the dining room. Once again, nobody was hurt. That's good news. Everyone got out in quick order and the fire department arrived promptly to extinguish the flames.
The restaurant is literally about one mile from our SERVPRO cleaning facility in the Bay Area. We were invited to provide cleanup services. We had a crew there with two hours to present a cleanup scope. The next day we were providing soot and debris cleanup to get the place ready for reconstruction…. SERVPRO of San Leandro to the rescue. (our sister company in the San Francisco Bay Area.)
After the reconstruction was completed we returned to provide post-construction cleanup and prepare the place for it's reopening. By the way, they specialize in flame-broiled burgers. How ironic.
By the way, SERVPRO of Stockton is experienced in restaurant fire cleanup too.